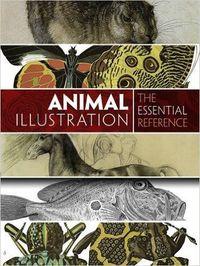 BACK
ANIMAL ILLUSTRATION
Comprehensive and entertaining, this volume presents the greatest works in animal illustration from the Middle Ages through the 20th century.
Hundreds of black-and-white and color images range from medieval illuminated manuscripts and woodcuts from the dawn of printing to illustrations by Merian, Seba, Cuvier, Audubon, Lear, and the Detmold brothers. Detailed bibliographical information on the sources and artist biographies make this collection a vital reference.

Graphic artist Carol Belanger Grafton has edited and designed over 250 books for Dover, including titles on Art Nouveau and Art Deco graphics, vintage commercial and advertising art, historic engravings from the 16th through the 20th centuries, old-time postcards and collections of historic paintings, historic fashion illustrations and designs, and many other subjects.
More like this