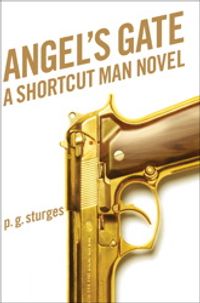 BACK
ANGEL'S GATE
This is another rousing tale of sex, sleaze, and salvation in the City of Angels, featuring Dick Henry, the Shortcut Man.
In Angel's Gate our hero Dick Henry is drawn into a case involving an aging but still amorous Los Angeles movie mogul named Howard Hogue who keeps a stable of twenty-plus young starlets available for his highly ritualized attentions. Henry is retained by the sister of a young woman who has gone missing and soon Henry is becoming friendly with Connie Cielo, the "housemother" to the starlets. Despite Connie's morally questionable responsibilities, she is willing to help (and enjoy the company of) The Shortcut Man. After Hogue's star director batters one of these women in a drug-fueled romp, Henry is drawn into a deeper mystery from years past involving a mysterious death on a boat and a missing screenplay written by what appears to be a homeless man. As he peels back layer upon layer of sordid Hollywood history, Dick Henry must content with crazed drug dealers, Hague's personal doctor, crooked cops, private security henchmen, and Hague himself, who is so powerful and bunkered in his movie-biz millions that he is not intimidated by the resourceful Henry. Is there a final showdown? Yes. Is there a climactic scene? Yes! Is there a sneaky last plot twist? Of course! Will the Shortcut man succeed to live another day? How could he not?

p.g.sturges was born in Hollywood, California. Punctuated by fitful intervals of school, he has subsequently occupied himself as a submarine sailor, a Christmas tree farmer, a dimension and optical metrologist, a writer, and a musician.

Weblink:
http://books.simonandschuster.com/Angel's-Gate/p-g-sturges/9781476712970


More like this