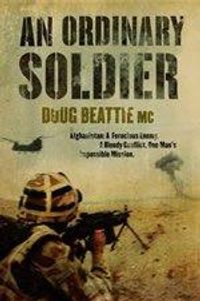 BACK
An Ordinary Soldier
An Ordinary Soldier is the story of an extraordinary man who has given 25 years of service to his country, and been present at some of the most pivotal and newsworthy events in recent history. As a guard to Rudolph Hess in Spandau prison; as a lowly ranger in Northern ireland; as an NCO in Bosnia; as regimental sergeant major of the 1st Battalion the Royal Irish Regiment in Iraq under the command of Colonel Tim Collins; as an instructor at Sandhurst; and finally as an officer commissioned from the ranks: Doug Beattie thought he had seen it all. How wrong he was. At the very end of his career he faced his greatest challenge - fighting the Taliban in Afghanistan.
In September 2006 Captain Beattie was part of a ragtag team of British soldiers sent to help Afghan forces retake Garmsir in the south of Helmand province, a strategically important town where Prince Harry served earlier this year. Doug's role in the mission was supposed to be that of a mentor to the Afghan National Police. But from the first moments of battle it became clear that rather than advise from the back, he would have to lead from the front. The operation was meant to last no more than 48 hours. Instead Doug was in the town for almost two weeks trying to shoot, bomb and bayonet the enemy into submission. At the very last, the operation ended in failure as he and the other two remaining British servicemen were forced to withdraw after support from military chiefs was unforthcoming. To compound his guilt and anguish at leaving the town to its fate, the man he admired most within the Afghan police was killed a couple of days later. For his bravery in Garmsir Doug Beattie was awarded the Military Cross.
Started as a cathartic exercise to help Doug overcome what he had seen and done - and explain it to his family - An Ordinary Soldier appeals at every level. At its most basic it is a thrilling war story. But there is much more. These are the considered thoughts of an intelligent, unassuming career soldier who questions his every act. It is an absorbing and timely insight into what British troops face daily in Afghanistan and it also exposes just how difficult it is for them to work alongside their Afghan colleagues.

Weblink:
http://www.andrewlownie.co.uk/authors/doug-beattie/books/an-ordinary-soldier


More like this