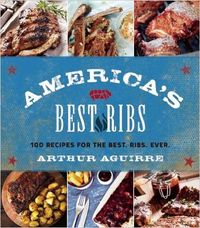 BACK
AMERICA'S BEST RIBS
100 Recipes for the Best. Ribs. Ever.
America loves barbecue, especially when it comes to ribs!
Barbecue contests are serious business. Major competitions and festivals now take place in twenty-eight states, and there are twenty BBQ associations and societies across the country committed to encouraging the art of smoking and grilling meat. While thousands of chefs compete for the best ribs, low-key backyard BBQ competitions are springing up all over the country, offering amateur smokers the chance to become the neighborhood BBQ king or queen.

Arthur Aguirre's BBQ team, Major League Grilling, has won nearly twenty awards in his first two years of BBQ competition, including Grand Champion at the Soybean Festival in Mexico, Missouri. In this book he compiles his prize-winning recipes with those of competitors across the country to offer you recipes for the Best. Ribs. Ever. Aguirre promises (and delivers), "I present to you the most thorough education on preparing the best ribs ever seen in print." Get out your hot sauce, honey, brown sugar, pineapple juice in a spray bottle (really), and of course your meat, and prepare to become the rib master in your neighborhood!

Arthur Aguirre is a BBQ enthusiast who not only loves to eat what he cooks but also obsessively takes pictures of and writes about his grilling for his blog, majorleaguegrilling.com. Many of his unique BBQ recipes have been published online. Moreover, his successful BBQ team, Major League Grilling, has won nearly twenty awards (including Grand Champion) in his first two years of competition. He lives in O'Fallon, Missouri.
More like this