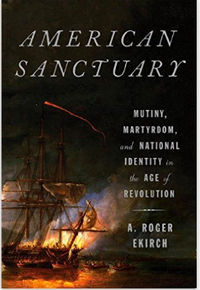 BACK
AMERICAN SANCTUARY
Mutiny, Martyrdom, and National Identity in the Age of Revolution
AMERICAN SANCTUARY is the extraordinary story of the mutiny aboard the frigate HMS Hermione in 1797 (eight years after the mutiny on the Bounty).
It was the bloodiest mutiny ever suffered by the Royal Navy, that led to the extradition from America, and the hanging by the British, of the martyred sailor Jonathan Robbins. This event plunged the two-decade-old American Republic into a constitutional crisis, and powerfully contributed to the outcome of the U.S. presidential election of 1800. It propelled to the fore the fundamental issue of political asylum and extradition, still being debated today—more than two hundred years later.

A. ROGER EKIRCH was born in Washington, D.C., and raised in Alexandria, Virginia, and Delmar, New York. He is the author of Bound for America, Birthright, and At Day's Close. He holds degrees from Dartmouth College and John Hopkins University, and is a professor of history at Virginia Tech.
More like this