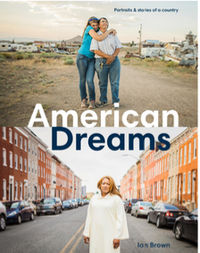 BACK
AMERICAN DREAMS
Portraits and Stories of a Country
A powerful, moving photography collection of Americans from all walks of life paired with their handwritten statements about their American dreams.
In the lead-up to the 2008 presidential election, Canadian photographer Ian Brown, fascinated by the idea of the "American dream," set out to photograph Americans and document what it meant to them. Brown traveled across the country in an old truck and began knocking on people's doors; meeting them at town halls, diners, and factories; and approaching them on main streets in small towns. In addition to shooting people's portraits, he asked them to write down--on a piece of paper, in their own handwriting--whatever their "American dream" was or what it meant to them. Their dreams offer a look at fascinating cross-section of identity that makes up the American experience--from the woman in an impoverished town who just wants running water and the pastor who wants to see her community become free of violence, to the young couple who bought a home with the hopes of starting a family and the young woman who dreams of becoming a journalist.

Twelve years, eighty thousand miles, fifty states, and more than three hundred portraits later, American Dreams is a culmination of this incredible project, featuring 175 portraits of people of all backgrounds paired with their handwritten "American dreams." Beautifully packaged, and inclusive of a multitude of ages, races, identities, classes, religions, and ideologies,American Dreams is a poignant, defining look at American life and identity during one of the most important moments in our history.

Ian Brown is an award-winning photographer whose work focuses on the human condition. His portraits have been acclaimed for their simple depth of emotion and honesty. He survived cancer at the age of nineteen, a heart attack at age thirty-two, and being shot at in the middle of a civil war in Colombia while on assignment for Doctors Without Borders. His work has been featured in the New York Times, Washington Post, and a number of international publications. He lives in Toronto and continues to try perfecting making pancakes for his seven-year-old daughter.
More like this