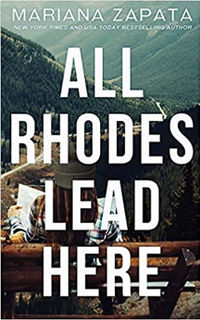 BACK
ALL RHODES LEAD HERE
Losing people you love is hard. Aurora De La Torre knows moving back to a place that was once home isn't going to be easy.
Starting your whole life over probably isn't supposed to be. But a small town in the mountains might be the perfect remedy for a broken heart. Checking out her landlord across the driveway just might cure it too.

Mariana Zapata is a New York Times, USA Today, and #1 Amazon best-selling author and reached #7 on Amazon's Author Ranking in 2016. She began writing love stories soon after she learned how to spell. She probably shouldn't admit that she started sneaking romance novels from her aunt's bookshelves way before she was old enough to even understand what it meant when a man flipped up a woman's skirt. (Don't tell her mom.) Mariana is a native Texan living in a small town in Colorado with her husband and two beloved (and emotionally manipulative) Great Danes, Dorian and Kaiser. When she's not pretending to write, she's reading. You can usually find her burning somewhat edible experiments in the kitchen or cracking jokes at the expense of her family members.
More like this