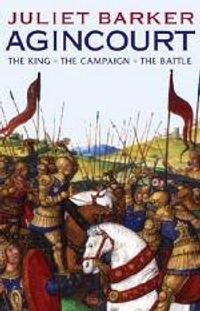 BACK
Agincourt
The King .The Campaign. The Battle.
When Henry V and his 'band of brothers' defeated the assembled might of French chivalry on a rainy October day in 1415 it was a defining moment in English history. The battle of Agincourt became part of the nation's self-image. For six centuries it has been celebrated as the triumph of the under-dog in the face of overwhelming odds, of discipline and determination over arrogance and egotism, of stout-hearted common men over dissolute aristocrats. But what is the truth behind the battle upon which so many legends have been built?
In this landmark study of Agincourt, prize-winning author Juliet Barker draws upon a huge range of sources, published and unpublished, English and French, to give a compelling account of the battle. But she also looks behind the action on the field to paint a portrait of the age, from the logistics of preparing to launch one of the biggest invasion forces ever seen at the time to the dynamics of daily life in peace and war. She shows how the chivalry and piety which underpinned medieval society, and the contradictions inherent in trying to uphold them, were reflected in the fate of those caught up in the brutal power struggles of the period. A mad king, murderous dukes, scheming bishops, knightly heroes, surgeons, heralds, spies and pirates, the story of Agincourt has them all.
Rich in detail and drama, vividly and beautifully written, this is popular history at its best.

Weblink:
http://www.andrewlownie.co.uk/authors/juliet-barker/books/agincourt


More like this