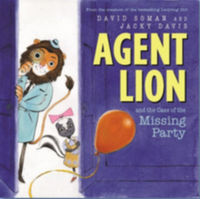 BACK
AGENT LION AND THE CASE OF THE MISSING PARTY
From New York Times bestselling Ladybug Girl creators David Soman and Jacky Davis comes the second hilarious Agent Lion picture book. When young Petunia the skunk can't find her birthday party, Agent Lion is certain he will be able to help her in no time! Will he be able to save the day? Read this upside-down detective tale find out!
Agent Lion is back, and it's PARTY TIME! Petunia's birthday is today, and she's got everything a birthday girl needs: An excited smile The perfect bow A big party Wait... where is the party?! It was just here a second ago! The balloons, streamers, and guests are all gone!! In a mad dash to find it, Petunia calls the best detective in town, Agent Lion. He runs through the halls, follows clues, and even takes a quick swim - but will Agent Lion find Petunia's celebration in time?


David Soman and Jacky Davis are a husband-and-wife picture book team and the creators of the New York Times bestselling Ladybug Girl series, which has entertained readers for over a decade. They are also the creators of the Agent Lion series. David and Jacky live together in Rosendale, New York, with their children and their rescue dog, who resembles a lion.
More like this