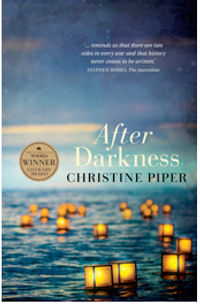 BACK
AFTER DARKNESS
The story of a Japanese doctor arrested as an enemy alien and interned in Australia in 1942.
It is early 1942 and Australia is in the midst of war.

While working at a Japanese hospital in the pearling port of Broome, Dr Ibaraki is arrested as an enemy alien and sent to Loveday internment camp in a remote corner of South Australia. There, he learns to live among a group of men divided by culture and allegiance.

As tensions at the isolated camp escalate, the doctor's long-held beliefs are thrown into question and he is forced to confront his dark past: the promise he made in Japan and its devastating consequences.

Christine Piper's short fiction has been published in Seizure, SWAMP and Things That Are Found In Trees and Other Stories. She was the 2013 Alice Hayes writing fellow at Ragdale in the United States. She has studied creative writing at Macquarie University, the Iowa Writers' Workshop and the University of Technology, Sydney, where she wrote a version of this novel as part of her doctoral degree. She has also worked as a magazine editor and writer for more than a decade. Both in South Korea in 1979 to an Australian father and a Japanese mother, she moved to Australia when she was one. She has previously taught English and studied Japanese in Japan, and currently lives in New York with her husband. After Darkness is her first novel.

Weblink:
www.christinepiper.com


More like this