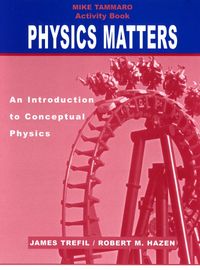 BACK
Activity Book to accompany Physics Matters: An Introduction to Conceptual Physics, 1e
Activity Book From amusement park rides to critical environmental issues such as energy generation-physics affects almost every aspect of our world. In PHYSICS MATTERS, James Trefil and Robert Hazen examine the fundamental physics principles at work behind the many practical applications that fuel our society and individual lives. Their goal is to promote a deeper understanding of how the great ideas of physics connect to form a much larger understanding of the universe in which we live.
Highlights:
Helps readers build a general knowledge of key ideas in physics and their connection to technology and other areas of science.
Promotes an appreciation of what science is, how scientific knowledge is developed, and how it differs from other intellectual activities.
Examines modern technologies, including GPS, the Internet, and information technologies, as well as medical technologies, such as MRI, PET scans, CAT scans, and radioisotope tracers.
Explores key issues facing the world today, such as global warning, nuclear waste, and government funding for research.
More like this