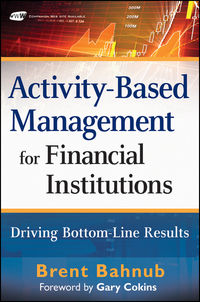 BACK
Activity-Based Management for Financial Institutions
Driving Bottom Line Results
Activity-Based Management for Financial Institutions
Driving Bottom-Line Results
Instrumental in improving fact-based action, activity-based management (ABM) is a discipline that focuses on the management of activities as the route to improving the value received by the customer and the profit achieved by providing this value. While a host of Fortune 500 and other growth companies are using ABM, not all are doing so with maximum results, demonstrating clearly that proper application requires certain tools and techniques. The fundamentals needed for the effective deployment of ABM are presented and explained in Activity-Based Management for Financial Institutions: Driving Bottom-Line Results.
An important contribution to the body of knowledge of managerial accounting, and a comprehensive guide to the key aspects of ABM, Activity-Based Management for Financial Institutions provides hope for your financial institution, especially if it recognizes the deficiencies of its existing traditional costing methodology and system and wants to leverage the progressive power of information technology.
With a resourceful accompanying Web site providing the templates, tools, and techniques found in the book, Activity-Based Management for Financial Institutions explores:
How organizations are moving from measuring product and standard service-line profitability to measuring customer profitability and value

The obstacles and implementation pitfalls you can expect—along with prescriptive solutions so you can easily resolve them

How to drive activity-based costing (ABC) data to your bottom line using ABM

How your institution can drive millions of dollars of improvements through better use of ABC/M

How to clearly articulate and improve your shared services cost structure
Practical and results-driven, this solid resource explores what it will take for you—and every controller, cost manager, or CFO of a financial institution—to successfully implement the full vision of the performance management framework within your organization.
More like this