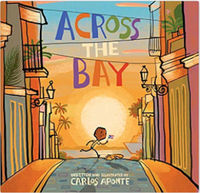 BACK
ACROSS THE BAY
Author-illustrator Carlos Aponte takes readers on a journey to the heart of Puerto Rico in this enchanting picture book set in Old San Juan.
Carlitos lives in a happy home with his mother, his abuela, and Coco the cat. Life in his hometown is cozy as can be, but the call of the capital city pulls Carlitos across the bay in search of his father. Jolly piragüeros, mischievous cats, and costumed musicians color this tale of love, family, and the true meaning of home.

Carlos Aponte is an artist, designer, and author-illustrator of the children's book A Season to Bee. His fashion illustrations, inspired by the great Antonio Lopez and Jack Potter, have been featured in Laird Borelli's Fashion Illustration Next, Bil Donovan's Advanced Fashion Drawing, Tony Glenville's The New Icons of Fashion Illustration, and Richard Kilroy's Menswear Illustration. Carlos is a faculty member at the Fashion Institute of Technology. He lives in Jersey City with his partner, Christopher, and a French pointer named Rex.
More like this