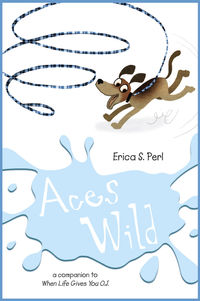 BACK
ACES WILD
Eleven-year-old Zelly Fried should be thrilled. Her eccentric grandpa Ace's ridiculous plan actually worked and Zelly now has the cute, cuddly, melt-your-heart-with-his-big-brown-eyes dog she's always wanted. Unfortunately, the puppy – also named Ace - is quickly establishing himself as the shoe-chewing, mud-tracking, floor-peeing, completely-uninterested-in-changing kind of dog. Despite Zelly's best efforts to drag Ace (literally!) to puppy kindergarten, his flunking report card says it all: "This Ace is wild."
Coincidentally, so is the other Ace in Zelly's life. It's not just that Grandpa Ace has decided he's ready to start dating again or that he's willfully ignoring his doctor's advice. Instead, Ace is dining and dancing and carrying on with three very attentive older ladies (who Zelly thinks of collectively as the "grandpa groupies") and he has the chutzpah to suggest that Zelly should be happy for him. Which is more than Zelly – not to mention Ace! – needs so soon after Ace's heart attack and the death of Zelly's beloved grandma, Bubbles. Besides, shouldn't he be acting more like a normal grandpa? Didn't he promise to stop being so opinionated, so loud, so ACE?
Determined to get both Aces under control in time for her slumber party, Zelly needs to come up with a plan, and fast! But how? It's not like either Ace ever does what he's told.

Erica S. Perl is an award-winning children's book author. Her middle grade novel, When Life Gives You O.J. was named a 2012 Syndey Taylor Notable Book for Older Readers and was selected by Amazon editors as an Amazon Best Book of the Month for June, 2011. When Life Gives You O.J. has been nominated for the Dorothy Canfield Fisher Award, the Vermont State Book Award for middle grade books and for the Rhode Island Children's Book Award.
More like this