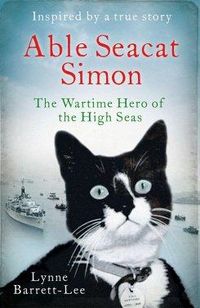 BACK
Able Seacat Simon
The Wartime Hero of the High Seas
'I knew about humans. Sometimes they liked to offer things to you and then, when you plucked up the courage to inch closer, would grab you and take you and put you in a cage. Oh, yes, I knew all about that. I shrank back against sacks piled around me and hissed.
The man laughed and bent down. 'Don't be scared, little feller,' he said. 'Don't be frightened.' And then he reached all the way and just as I tensed, petrified, he smoothed his huge human hand all the way down my back, like the lady in the big house by the jetty used to do.
'There,' he said. 'My, you're just skin and bone, aren't you? Shall I see if I can find you something to eat?'
My heart leapt. He meant food. And I was starving, so I wavered. But my mother had warned me. Most humans weren't like the lady in the big house. I saw my chance. Spied the nearest sack. Made a leap and scrabbled up it. Then ran away just as fast as my legs could carry me.'
1948. The docks of Hong Kong. Where a young orphaned kitten, bereft, scared and alone, is doing his best to survive. It's a hard, frightening life, and his hunting skills are minimal, so when befriended by a young sailor from one of the ships docked in Victoria Harbour, he eventually trusts him enough to take food from him. But it seems the sailor, who is missing his own cat back in England, is after more than just a temporary friend. He names the kitten Simon, and when his ship, HMS Amethyst, is ready to sail, he decides to smuggle him onboard.

Weblink:
http://www.andrewlownie.co.uk/authors/lynne-barrett-lee/books/able-seacat-simon-the-wartime-hero-of-the-high-seas


More like this