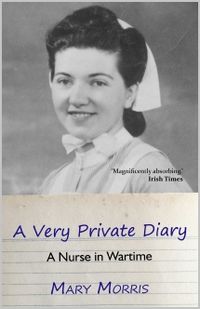 BACK
A Very Private Diary
A Nurse in Wartime
The impulse for adventure that sent Mary Mulry (later Morris), a young Irish woman from County Galway, to train as a nurse in England in 1939 would see her landing in the heels of the Normandy invasion as a member of the Queen Alexandra's Imperial Nursing Service Reserve (QAs) in June 1944.
Mary's diary gives us vivid stories of nursing and romance from her first encounter with wounded soldiers from the evacuation of Dunkirk, to narrowly escaping with her life in the London Blitz, and contracting diphtheria while caring for dangerously ill children in a London hospital.
Keeping a diary on active service was forbidden, but by her own admission Mary never had much time for rules, and when she lands in Normandy in June 1944 we are immersed in her exhausting work at a tent hospital in Normandy. A few months later she unsparingly recounts her soldier-patients' horrific stories of the Battle of Arnhem, and in the aftermath of war documents both the desolation of a bombed out Europe and the physical and mental injury that remain even when the war is over.
Yet Mary does not succumb to despair -in spite of the suffering she has witnessed she retains a love of life allows her to imagine a future beyond war.
More like this