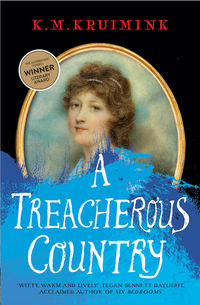 BACK
A TREACHEROUS COUNTRY
A TREACHEROUS COUNTRY tells the story of Gabriel Fox, a young member of the English landed gentry in 1842. He is suffering as young men do, having fallen in love with a woman who has rejected his marriage proposal. There is also family trouble. He is misunderstood by his unfeeling father and his beloved mother has been locked in the attic after she publicly displayed a measure of independent thinking.
Fox is commanded by his love interest's intimidating great Aunt to travel to the other side of the globe, to Van Deimen's Land to 'make something of himself'. She tasks him with finding her great niece, Maryanne Maginn, transported to the colonies at age 15 and there for the 30 years since. Not one thing goes to plan, of course, and we suffer along with Gabriel on his very unfortunate (although amusing) journey to find Maryanne and his courage. Odd characters, a whaling station, several criminals, and eventually some kindness, this is a wonderful and expertly executed read, well deserving of winning one of Australia's most prestigious literary prizes.

Authentic, original and playful, A Treacherous Country is a novel of loyalty, wisdom and the freedom to act.

K.M. Kruimink was born in Tasmania and spent most of her childhood in the Huon Valley, with an interlude on the West Coast. After completing a largely ornamental Arts degree at the University of Tasmania, she lived and worked interstate and abroad for several years. Today, she lives once again in the Huon Valley, now with her husband and daughter. A Treacherous Country is her first novel.
More like this