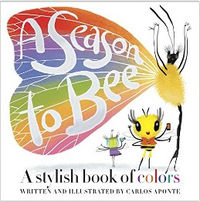 BACK
A SEASON TO BEE
A Stylish Book of Colors
Fashion illustrator Carlos Aponte gives readers front row seats to the runway show of the season! Join Miss V. McQueen and her band of fashion bugs as they flit and flutter their brilliant colors down the catwalk. Ladybug reds, butterfly golds, and grasshopper greens provide young readers with a chic introduction to the colors found all around us.
The insects are putting on a fashion show! Ms. V. McQueen, editor of BUZZ magazine, introduces all the latest looks ofr Spring and explains to the press how each color fits the season. For instance, to be bold like the sun that melts the snow…wear gold! And to look tall and get seen…wear green! But even with so many stylish choices, of course the most important thing to Bee is…YOU!

With A SEASON TO BEE, acclaimed designer and Fashion Institute of Technology instructor Carlos Aponte makes a tres chic debut, teaching young children about colors, self-confidence, and looking your best.

Born and raised in Puerto Rico, Carlos Aponte teaches drawing at the Fashion Institute of Technology in New York. His work has appared in the New Yorker, New York Times, Esquire, and Elle.
More like this