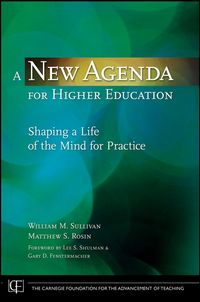 BACK
A New Agenda for Higher Education
Shaping a Life of the Mind for Practice
A New Agenda for Higher Education
Historically, higher education has aimed to enhance the possibilities of life for its students. The liberal arts and sciences have sought to do this through cultivating in students a "life of the mind"—the intellectual dimensions of students' lives such as problem-solving capacities and critical thinking. On the other hand, the professional schools have focused on providing the means whereby students might "make something of themselves" by acquiring competence in specific skills valuable to others.
In A New Agenda for Higher Education, the authors endorse higher education's utility for enhancing the practical as well as intellectual dimensions of life by developing a third, different conception of educational purpose. Based on The Carnegie Foundation for the Advancement of Teaching seminar that brought together educators from six professional fields with faculty from the liberal arts and sciences, A New Agenda for Higher Education proposes an educational aim of "practical reason," focusing on the interdependence of liberal education and professional training.
The book includes case studies of instructors from a wide array of disciplines including those who educate their students for practical responsibility. The authors document the process by which they learned to collaborate with one another across fields and, in the end, produced a new discourse of practical reason. The book also offers faculty, administrators, and those interested in the promise of higher education valuable suggestions on how to put these insights to work in their own academic contexts. It promises to stir and support the development of practical wisdom among students of all fields who are preparing for a wide variety of careers and callings.
More like this