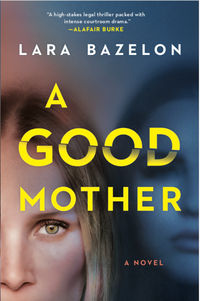 BACK
A GOOD MOTHER
A gripping debut thriller about two young mothers, one shocking murder and a court case that puts them both on trial.
When Travis Hollis, 21-years-old and a decorated combat veteran, is found stabbed through the heart at a U.S. Army base in Germany, there is no doubt that his 19-year-old wife, Luz, is to blame, using so much force she pierced skin, muscle, tissue, and bone, killing him almost instantly. The real question is whether Luz did it to save herself and her infant daughter from horrific domestic abuse, or whether she murdered an innocent man in cold blood.

As the high-stakes case heads to trial in Los Angeles, hard-charging attorney Abby Rosenberg is eager to return from maternity leave - and her quickly fracturing home life - to take the case and defend Luz. Abby, a new mother herself, is deeply invested in ensuring Luz avoids prison and retains custody of her daughter. But Abby will have the nearly impossible job of proving her client acted in self-defense, even though Luz has no visible injuries and a very powerful motive to kill. Complicating matters is Abby's growing tension with her co-counsel, Will Ellet, whose dark absorption with Luz causes a rift as they fight for control over the case - and their increasingly reticent and traumatized client.

As the trial careens toward an outcome no one expects, A GOOD MOTHER asks the reader the same questions the jury must answer. What does it mean to be a good mother? A good lawyer? And who is the real monster?

Lara Bazelon is an Attorney, New York Times and The Atlantic journalist, MacDowell Fellow, and former public defender. This is her first novel.

Weblink:
larabazelon.com


More like this