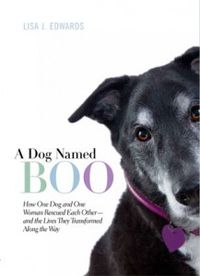 BACK
A DOG NAMED BOO
How One Dog and One Woman Rescued Each Other—and the Lives They Transformed Along the Way
This is a story about the runt of a litter who is dumped outside a pet store and grows up to touch many lives through his work as a therapy dog, providing touchstones for the struggling owners along the way. Given the underdog and feel good nature of this story, we think this project has strong television potential.
When Lisa Edwards, a professional dog trainer, brought Boo home, she'd hoped he could be taught to serve as a companion animal for her terminally ill brother. When she enrolled Boo in a training program, he turned out to be the class dunce. It wasn't until eighteen months later that Lisa discovered Boo's extraordinary gift; he had the perfect temperament to be a therapy dog. And as Boo helped to heal others, he unexpectedly gave Lisa and her husband a new found confidence in themselves.

More than one million Americans have been helped by therapy dogs. Most of these pets work in hospitals, nursing homes, and physical-therapy programs to comfort patients undergoing stressful procedures or to help people disabled by accidents or strokes regain mobility. Increasingly, "pet teams" dogs and their handlers visit schools and libraries or volunteer in the court system to support victims of domestic violence as they prepare to testify. Simply stroking or hugging a friendly pup can bring relief and healing.

For over six years, Boo has connected with a diverse group of people with a wide array of disabilities. Boo's uncanny ability to sense what each individual needs has helped myriad patients rehabilitate like never before. BOO! The Dog who Unleashes Miracles by Lisa Edwards and Lisa Collier Cool, recounts the triumphs of Boo's career as a beloved therapy pet and explores the fascinating science of the animal-human bond.

Lisa Edwards is a nationally certified professional dog trainer and a certified dog behavior consultant, who divides her time between classroom instruction and private behavioral tutorials. She has been a Delta Society Pet Partner with three of her dogs: Boo, Dante and Porthos. Lisa is also a guest lecturer for the Hudson Valley Humane Society's Visiting Pet Program.

Weblink:
www.threedogstraining.com


More like this