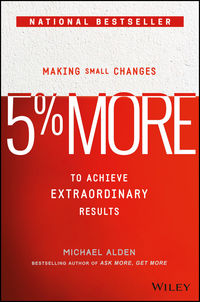 BACK
5% More
Making Small Changes to Achieve Extraordinary Results
The fact that you have this book in your hand means you want more. You want to perform better, live healthier, accumulate more wealth, and ultimately reach the goals you set for yourself. You've probably read other self-help books, tried their strategies, and still needed more, and this book will fill that need and set you on a path for doing more, living more, and achieving more every day—5% More.
The subtitle of this immediately useful guide—Making Small Changes to Achieve Extraordinary Results—is why this is the last self-help book you'll ever need. Unlike other programs that require radical, impractical changes to your personal and professional routines, this approach has demonstrated again and again to produce extraordinary results with easily doable actions. Unlike other self-improvement strategies that leave you thinking positive thoughts, this fully actionable methodology gives you concrete ways to give 5 percent more to yourself, your family, your colleagues and managers, and your business—no matter where you are in life.
Every chapter dives into a critical area where giving 5 percent more makes a dramatic difference so you can start out slow and customize where you apply the mind-set of 5 percent more. In fact, the revealing research and detailed examples used throughout demonstrate why improving step by step is essential to triumph and why trying to make big leaps is sure to end in failure. All the data and stories you read inside make a point, for sure, but they also inspire you to the possibilities of giving 5 percent more and provide clear footsteps for you to follow on your own path to:
Quickly grasping and practicing the 5 percent-more mind-set to reach success regardless of your profession, job title, personal situation, and goals
Setting yourself apart from your peers and those at the next level by identifying specifically where you need to give 5 percent more
Establishing yourself as a person to emulate in order to motivate others to give 5 percent more
The most important takeaway is this: the secret to wealth, health, and happiness isn't out there—it's inside of you right now waiting to be let out with 5% More.
More like this