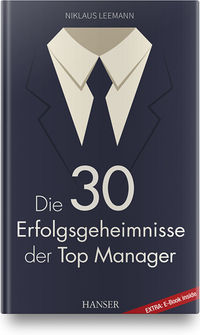 BACK
30 Secrets for Success of Top Managers
This book calls out the salient patterns of behavior and actions that differentiate suc-cessful managers from the rest. It touches on subjects such as guidance, strategy, rheto-ric, networking and personality.
30 secrets for success of top managers
Rules to reflect on one's own leadership style and the corollary: development as a leader
Memorable anecdotes from the great treasure chest of experiences of the author
Applicable for various leadership roles spanning from CEO or department manager to local politician of sports club president
The author draws a picture in this book of a positive model of good leadership that is based on traits such as responsibility, self-confidence and humility. The reader, upon reflecting on the text, is invited to develop his or her behavior as a leader.

Weblink:
https://www.hanser-fachbuch.de/buch/Die+30+Erfolgsgeheimnisse+der+Top+Manager/9783446458161


More like this