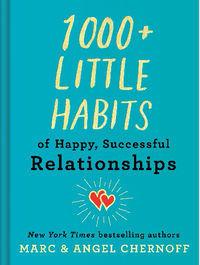 BACK
1000+ LITTLE HABITS OF HAPPY, SUCCESSFUL RELATIONSHIPS
In this book, the New York Times bestselling authors deliver inspiring, actionable advice for keeping relationships strong - for couples, parents, friends, and more.
Millions of readers turn to Marc and Angel Chernoff for fresh and relevant insights for living their best lives. In their newest guide, they share hard-won secrets for strengthening our connection to the loved ones who matter most. With their signature combination of common sense and uncommon wisdom, they bring together ideas for fostering intimacy and trust, expressing our needs, showing gratitude, and more.
Topics include:
- 19 things happy couples do differently
- 17 powerful quotes every parent should read
- 7 things to remember about toxic family members
- 10 powerful mantras to stop the drama in your life
- 9 mindful ways to remain calm when others are angry

An inspiring touchstone to read with a partner, with a friend, or solo, this simple yet powerful book offers a booster shot for anyone seeking to better understand and nurture the bonds that bring us together and make our lives whole.

Marc and Angel Chernoff are professional coaches, full-time students of life, and admirers of the human spirit, and have been recognized by Forbes as having "one of the most popular personal development blogs." Through their blog, podcast, books, life events, courses, and coaching, they've spent the past decade writing about and teaching proven strategies for finding lasting happiness, success, love, and peace.
More like this